Fishiding.com has again created another, whole new concept in artificial habitat restoration with our new pour in place habitat materials, layouts and designs. If you are building a new pond, have temporary low water conditions with exposed shoreline, or help to improve habitat at your local reservoir, this money and time saving concept is for you and your fish!
Permanent habitat can never be stolen, moved or sent downstream by current flows, snags or anchor lines, because it's poured in concrete right in place on the lake floor. This habitat stays in place forever, like a footing for your own house, this poured in place permanent habitat keeps the fishes homes in the same spot forever. Fine, dense strands to protect the young, along with branches and limbs sticking out in all directions, this fish habitat becomes an integral part of the permanent lake floor.
You can pour our loose artificial habitat materials into a pile of concrete directly on your dry lake bed, using the ground as the container to hold the mix. No buckets, barrels or forms, simply bank pour the concrete and stick the limbs right into the mix. Scrape a trench or dig a hole, anywhere you want the fish to have a home. If you prefer, "plant" some of our finished habitat models before the water comes up.
Great for groups with volunteer help, allowing you to save labor, installation and shipping costs, while investing in the fisheries future. Abstract design, means there is no wrong way to mix up the materials. Fun for all ages to learn, get involved and help.
Professionally planned packages that are custom designed for your lake, pond or project goals. Determine your needs to determine which cuts, pieces, textures and sizes will best help your goals and the fish. Pallets shipped directly to you with thousands of individually cut and selected pieces of our patented habitat materials, ready to be set into your permanent fisheries habitat plans.
Dozens of different PVC materials, in countless shapes, sizes, thicknesses and forms are available in an array of sizes. Anything that we use to make our full product line of artificial habitat models and more, at your disposal by the pound, square foot, or material type.
Fine, limber strands 1/4" wide, up to stiff PVC sticks, panels, sheets and moldings 12' tall and virtually any width. Massive surface area attracts periphyton growth readily, on all surfaces with proven success. Tell us what you need and we can make it to fit your goals.
Packages can range from a couple hundred pounds of material, up to multiple full pallets, each weighing 1500 pounds or more, shipped directly to your job site. We offer specific cuts creating anywhere from 6 to over 40 square feet of surface area per pound. These intricate pieces of PVC protection range in cost from $1 up to $6 per pound.
For example, the 36"x 4" bundles of .040 limbs create over 9 sq. ft./per pound.
Shallow, fine and dense material packages, range from 12" up to 36" tall by all widths, textures, colors and flexibilities. This ultra fine and dense PVC offers the most surface area per pound.
Mid depth materials begin to get wider in profile and somewhat stiffer than the shallow materials as they increase in size. Ranging from about 32" up to around 60" tall and all widths, these stand tall and wide enough to cast a good amount of shade. Most common cover used as transition habitat between spawning and loafing areas. Middle range in cost as well.
Deep water materials are the widest, tallest and stiffest pieces we come across. PVC sidings, handrails, moldings, base boards and extra thick sheets, all cut up into countless variety of pieces to protect your larger fish. Pieces from about 48" tall, all the way up to 12' long in any and all thicknesses, colors and flexes. These pieces although large, wide and somewhat bulky compared to the shallowest material, are perfect for those deep spots you want some super tall stakes, stand ups and artificial timber coming high out of the depths.
Cut up into ready to cement sizes, or bulk sheets, boxes and bundles for you and some friends to cut up and experiment with. It's all safe and good for the fish!
Packages individually wrapped for easy unloading and installation are certain to set up your fish forever.
How it works:
Scrape a depression, hole or trench directly where you want the habitat to be when lake is full. These can be individual spots and piles placed at random along a gently sloping break, or shallow trenches creating lines of cover from shallow to deep.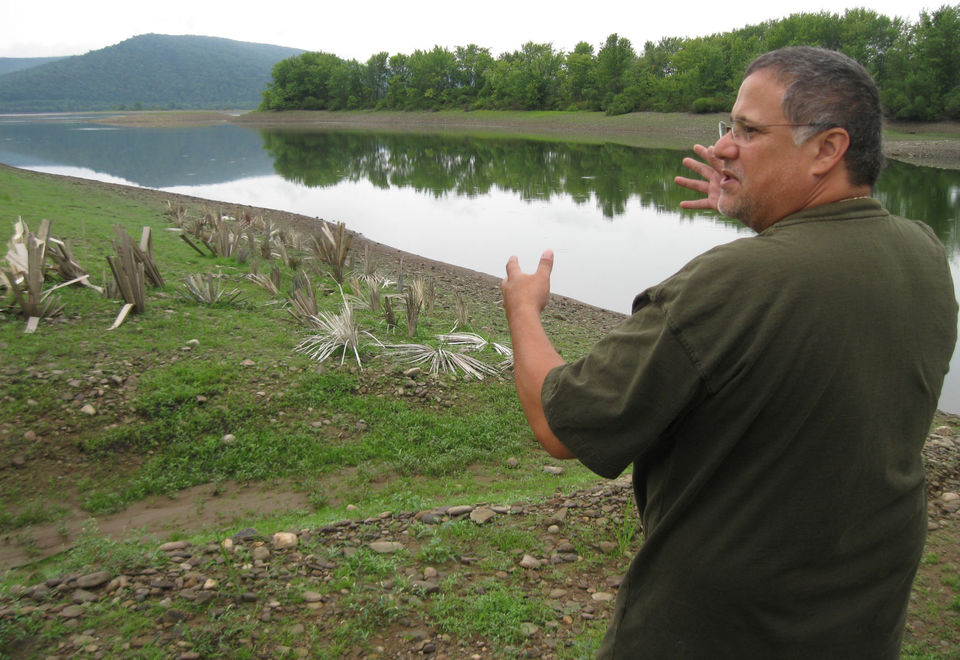 Next lay a pile of PVC limbs and pieces you select to be placed for habitat in the area. Fine sticks and strands for shallow water areas, wider, coarse pieces for the deeper zones. Experiment with mixing in other safe habitat materials like pipes, tubing wood and brush. More variety equals more fish.
Spread, pour, or dump a wheelbarrow of wet cement/concrete directly on the desired spot and push around until pile is no less than 4"-6" thick. (Small individual piles, or a continuous line of habitat can be installed with a single wheelbarrow full, or individual bags of concrete mix.)
Stick the PVC pieces into the wet concrete at random angles, moving pieces up and down to fully coat surfaces with concrete and leave them slightly into the soil to keep standing upright until cement cures. Repeat with all the material planned for installation.
After the cements sets which is usually about a day or two, bend the limbs at random angles, leaving some standing as installed.
Add a variety of materials to your project for the fish whenever possible. Create intricate detail into the cover you create for the fish to flourish.
Call or e-mail for details on how we can work together to create a plan for your fishery goals with a habitat design, forage base needs and a long term self sustaining fishery for generations to come.
All patented habitat materials are sold under specific one time licensed use by Fishiding.com to purchaser for own use to replicate habitat construction process. No other substantially flat plastic materials other than what is purchased directly from Fishiding.com website may be used as artificial fish habitat without written consent and proper licensing from said company. Infringement will be fully prosecuted.