Fishiding In Barrels
Barrels full of fish, barrel habitat with fish hiding spots and ultra dense cover, hit the water for 2021 with unmatched variety, complexity and unlimited flexibility. Ready to sink in minutes, no assembly, materials or additional tools needed, roll into water and fish! Artificial fish habitat now in barrels large enough to hold a fish city! Unlimited variety available, more fish barrel sizes coming soon. Ask us about making your own custom size barrell fish habitat, shape, and included materials to design your own fish barrels just for your lake, dock, pond or river frontage. Take a look at our pallet fish structure ideas as well in our Modular habitat section.
Our newest, ultra large and first ever artificial fish habitat arrangement in a reclaimed plastic fish barrel, holds hundreds of separate pieces of never before seen cuts and profiles of 100% reclaimed PVC habitat. We've found a way to display and ship our most robust fish habitat creations, tighter and tougher for the fish! Seven inches of thick concrete hold things together in the base and heavily weighted in the bottom of the fish barrel, standing up in all conditions.
Waves, current, slope or fishing pressure will not pull these magnum sized fish habitat barrel attractor units from their roots on the lake floor. Low center of gravity with wispy, rigid and flexible branches, flow with any outside forces brought upon them. PVC structure designs with a multitude of complexity in size, shape and densities, create the best and most utilized fish attractors.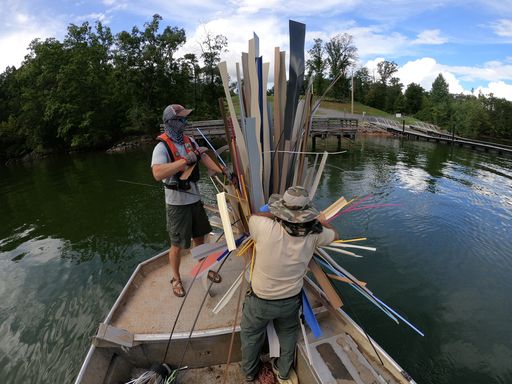 Each completed Barrel habitat is unique and one of a kind, just like we find in nature. Colorful, abstract and always welcoming, fish gravitate into the thousands of individual crevices provide within the intricate and ever changing, detail.
Large footprint and extreme weight hold these towering creations in one place forever. Installation is a breeze. You can simply drag or carry them with the incorporated handles, or use a two wheel dolly cart. Once in the boat, pontoon or on the dock, you can roll them around on edge and push it into the water. It stands up no matter what, on slopes and current areas. Taller, heavier and wider options are always available, contact us today to talk about your ideas and goals.
Tested, approved and installed by Fisheries Professionals across the nation. The long term solution to keeping tall, dense cover for the fish in one spot forever.
Mix things up for the fish with a variety of deep and steep water habitat for all bottom makeups, shapes, slopes and wave and current conditions.
Here's a link to see all the Barrel pics over numerous years. https://photos.app.goo.gl/77Rk67n46pfjyLCt9
Creating a somewhat rounded and realistic bush like shape, these Fishiding barrels accent our rectangular modular habitat mats with accenting shape, ease of mobility and unmatched material density. Endless options of size and types of material and model choice with literally anything possible for the fish. Barrels of Keeper, Safehouse, Stakeout and more, can be crested just for your fishery at no extra charge. Mix things up in a barrel for the fish! Let us know what we can build for your fishery today and have them living in it tomorrow. Our ten part underwater video series shows how fish interact with our products in real time video and time lapse photos, learn along with us here!
Our 100" tall fish Barrel Bush model, available in 20"/175# barrel, 24"/260# barrel, or 40"x48"x6"/275#Modular Mat. each contain 50 pounds of PVC, or 1/4 of the 200 pound build your own barrel kit shown above.
The 200 pound build your own Fishiding fish in a barrel bush kit is shown above. Additional models and groupings available, call or email for details. Custom quantities and shipping options for all needs.