DIY artificial fish habitat structure materials
If you have some time, passion and a little bit of creativity, we offer our pre-cut vinyl loose, pieces that you can use to make your own fishiding artificial fish habitat structures and pallet fish structures. PVC fish habitat that you can make using our PVC fish structure designs. If you are looking for DIY fish habitat or DIY pond habitat, you are in the best possible spot. Gather help of all ages and set up a day of helping out the homeless with PVC pipe dock fish feeder. Install into any type of container you want, add the cement and put in the materials to create your own fish hiding houses. Clean, colorful ready- to- go pieces in any size, shape, flexibility are available in any quantities you may need. We can help you and your fish succeed with the plentiful dense, reclaimed cover! Snag free, most anything you see in any of our models we can ship to your door in 48 hours or less. Free shipping!
We have pieces ready to go for any type and size project. Species specific textures and containers for shallow, deep, and high wave and wind action, combined with currents. Pour in place packages, boxes of just certain types of pieces, or mixtures of short, medium and tall textures combined are available in most any quantities. We offer most all of our fish habitat models in loose form, so you can make your own and diy! If you see a type or texture of pvc in our fish habitat structures you like, let us know how to send you just what you and your fish need.
100% reclaimed PVC materials that were destined for landfills, create long term habitat with infinite possibilities. Our goal has always been from the very beginning to utilize the overabundant, fish accepted and proven safe PVC materials, that were on their way to get buried. Diy fish structure and diy artificial fish structure for ponds are a much better place to use this durable and safe discarded pvc material. We simply cannot support the manufacturing of new and additional plastic products for habitat when so much unused materials exist. Varying in densities, textures, sizes, heights, widths, thicknesses and weights, packages can be customized for each lake, pond, fish species and age class. Free Shipping!
PERMANENT POURED PLACEMENT FISH HABITAT
If you are building a new pond, have temporary low water conditions with exposed shoreline, or help to improve habitat at your local reservoir, this money and time saving concept is for you and all types of fish! Permanent placed habitat can never be stolen, moved or sent downstream by current flows, snags or anchor lines, because it's poured in concrete right in place on the lake floor. This artificial fish habitat stays in place forever, like a footing for your own house, this poured in place permanent habitat keeps the fishes homes in the same spot forever. This fish habitat becomes an integral part of the permanent lake floor. PVC structure designs and habitat layout plans are always free, let us know how we can help! Diy pvc fish structure is here to stay and stay a long time!
You can pour our loose artificial habitat materials into a pile of concrete directly on your dry lake bed, using the ground as the container to hold the cement mix. No buckets, barrels or forms, simply bank pour the concrete and stick the limbs right into the mix. Scrape a trench or dig a hole, anywhere you want the fish to have a home. If you prefer, "plant" some of our finished habitat models before the water comes up, dig a shallow depression, drop them and backfill. If you need reclaimed barrels, buckets, pallets or forms, let us know, we can help!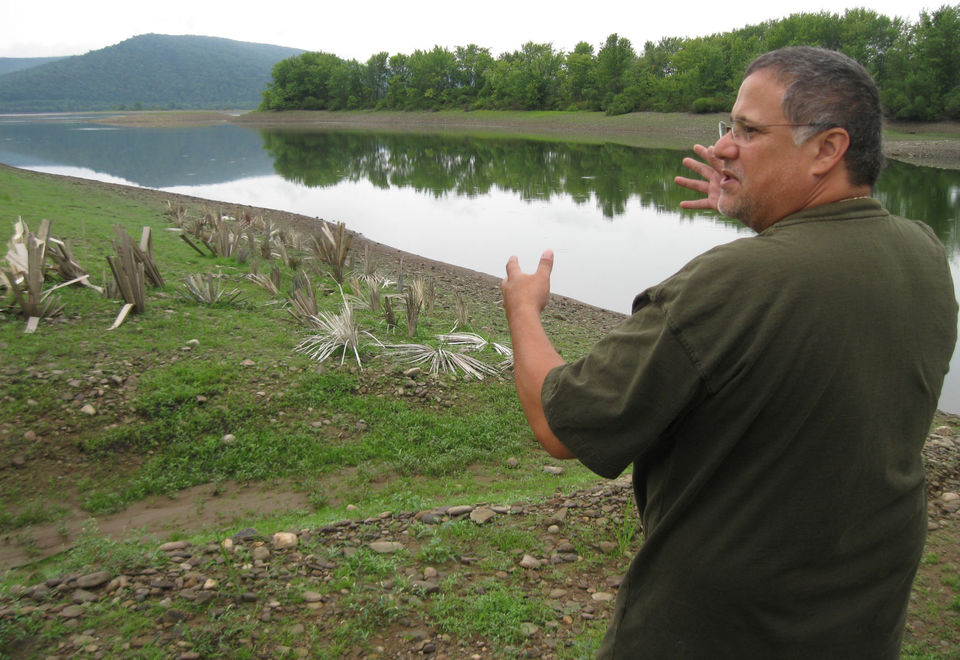 Professionally planned packages that are custom designed for your lake, pond or project goals. Determine your needs to determine which cuts, pieces, textures and sizes will best help your goals and the fish. Pallets shipped directly to you with thousands of individually cut and selected pieces of our patented habitat materials, ready to be set into your permanent fisheries habitat plans.
Our ten part underwater video series shows how fish interact with our products in real time video and time lapse photos, learn along with us here!
Dozens of different and unique PVC materials, in countless shapes, sizes, thicknesses and forms are available in an array of sizes. Anything that we use to make our full product line of artificial habitat models and more, at your disposal by the pound, square foot, or material type.
Packages can range from a couple hundred pounds of material, up to multiple full pallets, each weighing 1500 pounds or more, shipped directly to your job site. We offer specific cuts creating anywhere from 6 to over 40 square feet of surface area per pound.
Shallow, fine and dense material packages, range from 12" up to 36" tall and more, by all widths, textures, colors and flexibilities. This ultra fine and dense PVC offers the most surface area per pound.
Mid depth materials begin to get wider in profile and somewhat stiffer than the shallow materials as they increase in size. Ranging from about 32" up to around 60" tall and all widths, these stand tall and wide enough to cast a good amount of shade. Most common cover used as transition habitat between spawning and loafing areas. Middle range in cost as well.
Deep water materials are the widest, tallest and stiffest pieces we come across. PVC sidings, handrails, moldings, base boards and extra thick sheets, all cut up into countless variety of pieces to protect your larger fish. Pieces from about 48" tall, all the way up to 12' long in any and all thicknesses, colors and flexes. These pieces although large, wide and somewhat bulky compared to the shallowest material, are perfect for those deep spots you want some super tall stakes, stand ups and artificial timber coming high out of the depths.
Cut up into ready to cement sizes, or bulk sheets, boxes and bundles for you and some friends to cut up and experiment with. It's all safe and good for the fish!
Packages individually wrapped for easy unloading and installation are certain to set up your fish forever.
Add a variety of materials to your project for the fish whenever possible. Create intricate detail into the cover you create for the fish to flourish.
Call or e-mail for details on how we can work together to create a plan for your fishery goals with a habitat design, forage base needs and a long term self sustaining fishery for generations to come.
Our patented habitat materials are sold under a specific one time limited use, from seller Fishiding.com, to purchaser for own use to replicate habitat construction process. No other substantially flat plastic materials other than what is purchased directly from Fishiding.com website may be used without written consent and proper licensing from said company.