FREE SHIPPING INCLUDED
If you are planning on building some artificial fish habitat of any type with wet cement, you need this multi purpose pack that will add unlimited textures and flat PVC to your plans to help grow more fish.
Hundreds of pieces from 1/4" to 5" wide that average 35" long, can be divided into many individual habitat uses, includes the dozen containers to pour in. The many pieces can be used alone or with other artificial or natural materials set into cement. The mixture of many different materials, sizes, types, flexes and densities, all provide truly naturally abstract, artificial habitat. The protection fish and invertebrates need to flourish can be created in countless different ways. Entire box ready to go with free shipping included!
Our patented flat PVC materials are exclusive to Fishiding habitat products and provide the ultimate in diverse underwater protection. Large, wide surfaces excel in periphyton growth and cast unmatched shade. Flexible PVC can be shaped by hand or tossed in without any bending, a few days after cement sets.
Weighs 32 pounds
Spider Blocks, buckets or our included containers come to life with a mixture of these three different types of clean, snag-less, unused PVC. Pour the pieces right into your wet cement and when dry they can be bent with your fingers or left to sway in the open water column. Pinch the material with your fingers to create a crease to create wild, snag free cover.
Fry and forage species need tight spaces to hide and grow. Fathead minnows need the flat underside of objects to lay their eggs on and this material provides just that.
With the thirty pounds of material this box includes, we made twelve separate shallow habitat units, totaling over 250 square feet of usable surface area/22 square feet and 2.5 pounds of PVC per unit average. Our twelve units covered an area over thirty feet long and ten feet wide. Each finished unit weighed about 9 pounds. With 12 in a box, that's just $13.75 per habitat unit, including shipping!
This Multi purpose habitat box will triple the important surface area of a dozen Spider Blocks, or make separate cribs for pennies per square foot. Give the fish the density, shade and variety that in turn will reduce stress and increase production.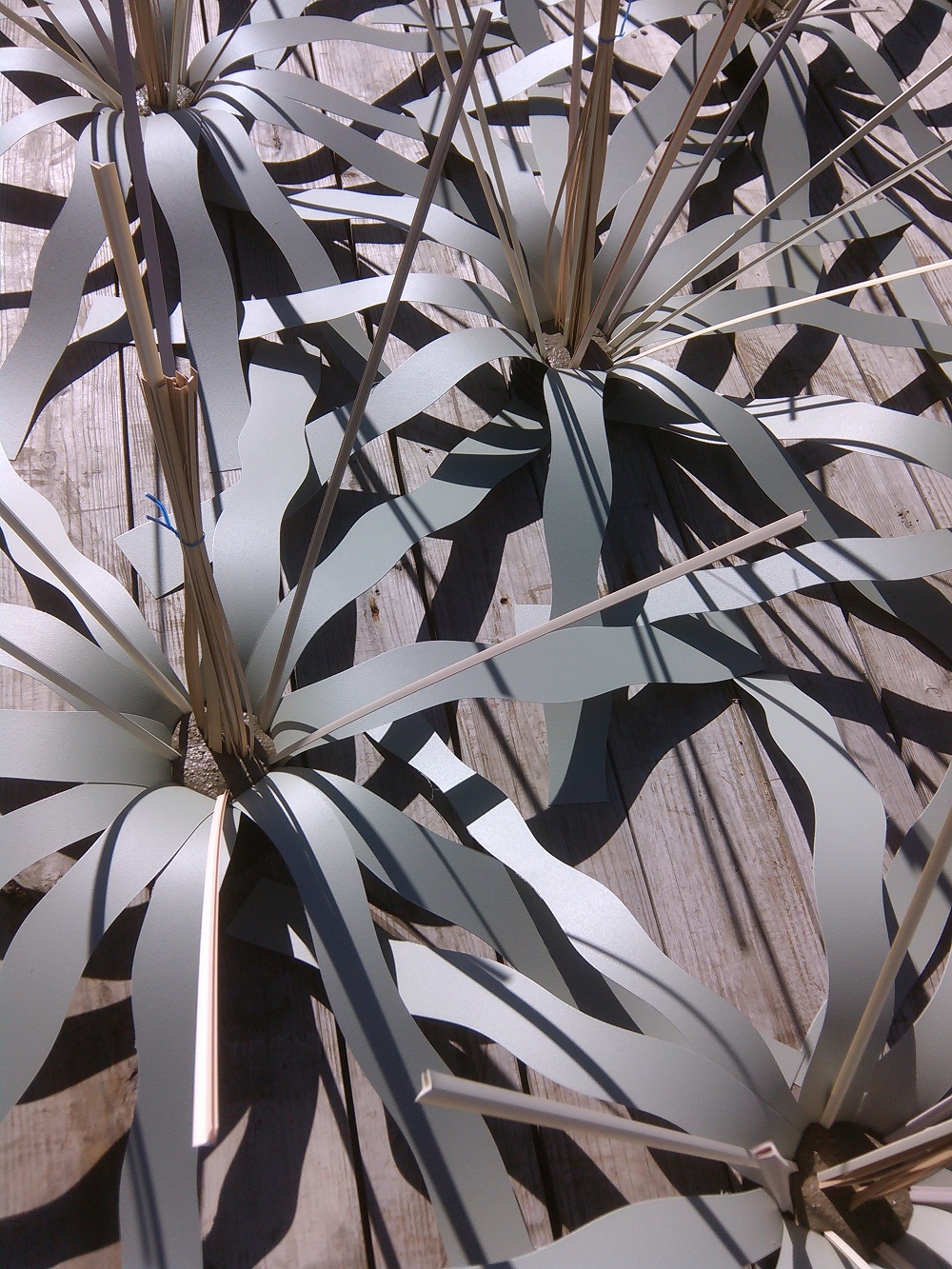 Order also includes 12 of our 8" diameter containers. You can always pour cement and use the material into your own blocks or buckets. Try using the habitat along with other safe products for the fish, creating custom multi materials in each habitat group.
The material can be added to existing projects or any habitat plans you have with wet cement. PVC will not come loose and just gets placed into wet cement until hard. After cement cures, bend limbs to abstract shapes and leave some hang, the fish like it all, seeking out the refuge and food the cover provides as well.
If you already have the wet cement to pour pipes and tubes into buckets, add additional shade and surfaces for protection and diversity. Add some brush and tall branches as well and the fish will find a new home. We prefer to use cement and sand only, or what is commonly known as mortor mix for bricklayers.
Twelve units will average 10-14 wide flat limbs per unit, 8-10 long flexible reeds and dozens of the fine Cradle material strands.
Larger amounts of flat material available in bulk by the pound by request.