UNIT SHIPS FREE
This new 15 foot tall HighRise Fish Tree Habitat with Vertical UpRise is the pinnacle of tall, magnum sized artificial fish habitat products. Until now, no fish habitat tree products above 5 or 6 feet tall have been available for fisheries professionals to reach taller in the water column, with no ability to stand on steep slopes. This fish tree fish habitat unit stands three times that! A true fish attractor that stands forever!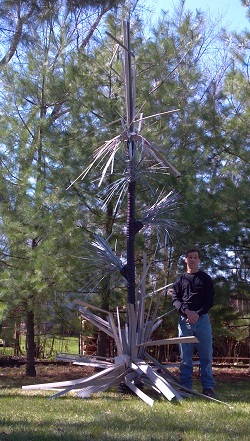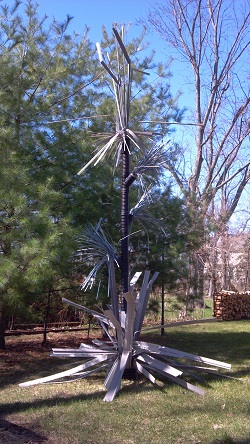 This big as life artificial fish tree habitat giant, stands a full 15' tall and weighs 50 pounds complete. Assembled in three sections by hand, it also comes with three bait fish habitat pucks, each containing over 26 square feet of fine, dense cover along the black, snag proof trunk.
The total square footage of this Pillar of the community is over 165 square feet. Opening up to a 9-6" diameter of limbs at the base, this towering fish tree of cover, offers shelter and food all along the 10 foot long trunk. Bursting in all directions with various sized limbs and branches, it flexes with the wave action, truly PVC fish habitat that comes to life!
The base stands 60" tall with a sizing array of our vinyl limbs to be bent by hand, or left to sprawl in the lower basement level of the massive protection this section provides. One bait fish puck gets popped into the top of this first section of trunk. The center section boasts two more pucks and another five feet of height. The 5 foot tall top section gets twisted onto that and the whole unit will stand up alone. All the connections take place right at chest level, easy to reach and hold the light weight top sections. Put the fish tree together either standing up or laying down. Just start to twist together from top to mid to lower section, working your way down. Push it in the drink and watch the bubbles disappear, mark it! PVC fish structure that works for the fish.
As always, the textured vinyl material grows life fast. The ability to move with the current created by wind, waves etc., allow this new dimension of deep and steep artificial habitat to flex like a tree in the wind. It is impossible for this habitat tree fish attractor unit to fall over, standing tall in the water no matter what slope or material composition they come to rest upon with Vertical UpRiseTM.
Because of the sheer size of this towering tree, we recommend pre-bending on shore. Bend all the sections to shape and hold back up with a string. Throw them in the boat and pull the string upon arrival at your designated spot. They vinyl limbs will spring back to the shape you bent them to on shore. Pop in the pucks here or ahead of time, twist the three sections together and push overboard. The upper sections are light-weight and easy to hold up and twist together.
It is important to note that if your water level ever drops below the top four or five feet of any HighRise Habitat with Vertical UpRise there is no need to worry. If placed on a slope, the unit will lay down in the water as it drops, only to rise again when the water comes back up. A true laydown that will "re-grow" itself when waters rise again. Perfect for reservoirs and floating boat houses that fluctuate water levels often. Weighs 50 pounds
hands down the best fish attractor tree i have used. actually does what it says and holds a ton of brim and bass

I know it said 14'-6" but that is taller than you think. It was easy to bend open. We just bought one and have crappie and bass around all day long. What a huge difference!