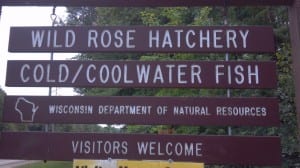 As the title states, Fisheries Biologists at the Wild Rose Hatchery in central Wisconsin, believe they can improve what they do best, raise lots of healthy fish for stocking. The problem lies with how many of these stocked fish will survive to adulthood once released in the State's many lakes and rivers. A very small percentage of stocked fish survive in any State and all waterways. These fishhave not yet learned to msurvive in the wild.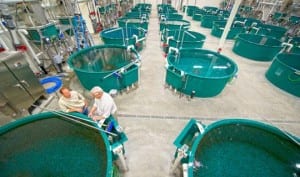 "The philosophy of most fish hatcheries is to rear a large number of fish and hope some survive" Victoria Braithwaite, Professor of Fisheries and Biology, Penn State University
Raised in captivity, fish don't have a chance to learn how to navigate and hunt, ambush and hide from direct sun and predators. Research has shown signs of improved brain function and development in fish raised in tanks with artificial habitat. "Interacting with the environment can influence gene expression in the brain", Braithwaite said.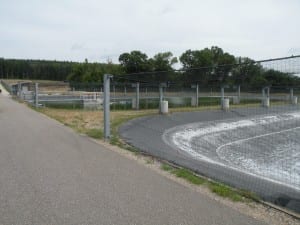 One goal of the study is to "teach" more of these fish to survive in the wild, by giving them a more realistic habitat to be raised in. Another huge benefit will be, having to produce less fish for stocking as far more will survive, thus reducing costs.
Comparison of Muskie growth, conversion and survival in plastic lined ponds with and without artificial structures.
Our plan (WDNR) is to rear approx. 1000 Great Lakes strain of Spotted Muskie in 4, one half acre lined ponds. The fish will come from Michigan DNR's Wolf Lake Fish Hatchery and should arrive in Wisconsin in early September. Two of the ponds the GLS Muskies will go into will have no structures. The other two ponds will have 75 Safehouse artificial fish structures from "Fishiding" in each pond. The Muskies will be fed minnows and held in the hatchery for approx. 10 months. At that time, each pond will be drained, all Muskies counted weighed and measured. The fish will then be PIT tagged and released into 3 inland Lakes in Wisconsin. Managers will be netting these lakes after release and will scan all Muskies for PIT tags.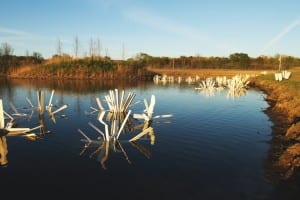 PIT tags, also known as Passive Integrated Transponders, have individual numbers that will be unique to each fish. The tag is the size of a grain of Wild Rice and should remain in the fish its entire life. The lakes stocked will likely be Anderson and Archibald in Oconto county and Big Elkhart Lake in Sheboygan County.
Networking for the fish:
Some may find it hard to believe that there are countless professionals working every day to find new ways to improve our fish, their habitats and the water they live in. Unique to this fisheries industry, these folks retain a truly passionate drive to improve our waters. Most of these Biologists and Scientists fish and/or hunt, spend time outdoors and truly enjoy their jobs. It is because of this passion, information gets passed freely, to improve our understanding.
A few years back, I met a gentlemen named Peter Berrini, P.G. Lake Restoration/Enhancement Scientist at HDR,Inc. Peter is involved in our 830 acre lake dredging project and also a member of theIllinois Lake Management Association that we mutually belong to. We spoke about our habitat products numerous times, which prompted him to pass our information on to a colleague within his firm, Tom Johnson, Sr. Fisheries Biologist. Tom works at the HDR, Inc. Fisheries design center and had been in discussion with Steven Fajfer, Operations Supervisor and Richard Klett, cool water propagation Biologist at Wild Rose Hatchery about their Muskies.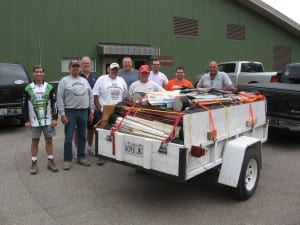 HDR's Fisheries Design Center, led by industry experts, is a focused group of professionals that operate as a single source to provide a range of services, from project planning to tailored best management practices, quality assurance programs, sustainability, energy conservation, water reuse, and CAD services.
The Fisheries Design Center matches dedicated technical specialists with each project to deliver optimal results for the fish and their natural environment.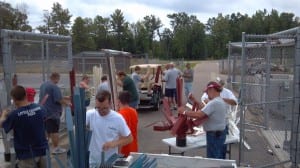 The WDNR Wild Rose team, were looking for an easy to install/remove, inert pond habitat for those musky who seem to need something in the pond to get around while they transition back to natural minnow forage from the pellet artificial feeds they were fed in the building. The new State of the art Wild Rose Hatchery, produce's all of the States Musky for stocking. Currently, the fish swam in circles around the edge of the ponds, uninterested in the minnows without something to instinctually hide and ambush from. Unprotected from sun and potential predation, these fish had been lacking the cover/habitat provided in nature to learn to hide, hunt and utilize cover before being released into the wild.
"As for why we wanted to do this, we all see how the muskies in the ponds search out structure of any kind to sit next to. That includes each other. Structures on the surface make the fish susceptible to sunburn and predation. We can't use organic material because of the risk of disease carryover and unable to disinfect. The Fishiding structures seemed ideal." Steven Fajfer, WDNR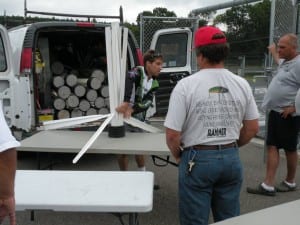 With the abundant talent the State has working on such projects, discussions began within the numerous departments and offices of the WDNR. Justin VanDeHey, Assistant Professor of Fisheries at the College of Natural Resources University of Wisconsin-Stevens Point, along with WDNR's Alfred Kaas, John Komassa and Randal Larson, discussed ideas and initial studies. Benjamin Heimbach, Gary Lindenburger, David Giehtbrock and Timothy Simpson have all added their input and opinions as well, from their various DNR offices within the State. The hard part was deciding what to study first with so many assumed positive results to come.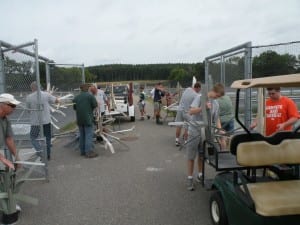 A similar study just released a few weeks back in the Proceedings of the Royal Society B andScience Daily, solidifies the concept. This study undertaken with an International team of Researchers from the University of Bergen, Norway and Penn State University, shows adding artificial fish habitat improves many aspects of the fish's development.
Victoria Braithwaite, Professor of fisheries and Biology at Penn State University states: "There's a mismatch between the way we raise them and the real world. What this study is suggesting is that you could raise fewer, but smarter fish and you will still have higher survivability once you release them. In the hatchery the world is homogenous, life is boring and monotonous. The water flow is the same, you don't have to find your food and you don't have to avoid predators."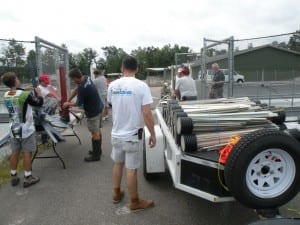 Funding………Who Supports Musky Stocking in Wisconsin?
The networking certainly didn't stop here. Steve Fajfer had a typical supervisor's dilemma. How can we procure enough habitat to study this correctly on our limited budget? Although the habitat was being offered at cost by Fishiding for the study as well as free delivery and installation help, the State needed additional funding to help to proceed.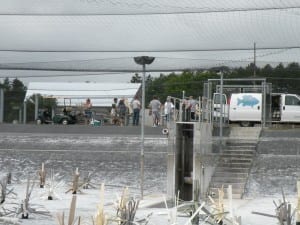 That's where Steve started making calls to Jerry Loop,The Winnobagoland Musky club'sRepresenative. Over the years, the Musky Club's Alliance of Wisconsin has given back to Musky in a big way. Almost two dozen separate clubs across the state raise money to give back to musky fishing in Wisconsin to form the Alliance. Jerry explained they have received grant money for habitat and would be willing to buy the discounted habitat and donate it to the Wild Rose Hatchery for the Musky studies. Along with the grant money, Jerry and some guys from the club would come out to help install, even bring lunch! These guys love their Musky!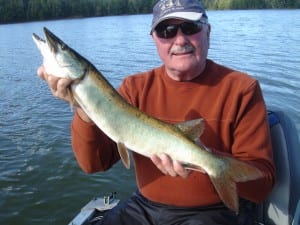 This donation of artificial habitat will be able to improve hatchery fish of many species for generations to come, consisting of reclaimed PVC and cement. For over 30 years, thousands of dedicated musky fisherman have worked raising money, so that future generations enjoy this priceless resource. It is no longer the fish of a thousand casts, not in Wisconsin.
Since 1979, the Musky Clubs Alliance of Wisconsin has been working with member clubs and the WDNR to improve the musky fishery in the state of Wisconsin. In the last 25 years a lot of things have been accomplished and some of them are listed below.
- Over 25,000 musky fingerlings have been stocked at an approximate cost of $162,000.
- Around $830,000 has been distributed to member clubs for their local projects and programs.
- Around $26,000 has been awarded to Wisconsin fishery students at UW-Stevens Point.
- Provide $40,000 in support of the Great Lakes Spotted Musky program.
- Provided $36,500 to the Portage Area Musky Club to support their musky rearing program.
- Provided $4,500 to the Pewaukee Lake Musky Research Project
- Provided $1,000 to the Hayward Area Musky rearing ponds.
- Donated $41,000 to the WDNR for musky related projects
- Donated $9,000 to Eagle River and Hayward "Fishing Has No Boundaries" program.
- Donated $700 to Wisconsin Conservation Hall of Fame
- Donated $1,500 to the Aquatic Invasive Species program
- Donated $9,000 to the University of Michigan/WDNR Musky Habitat Study
Installation Day Arrives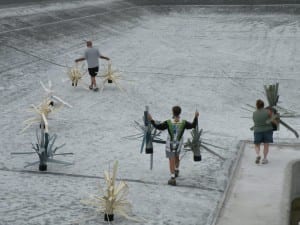 The date was finally set and the 300 habitat units were loaded on trucks and trailers. The four man Fishiding team headed north three hours to the hatchery. There we met Jerry and his group from the Musky club, ready to get busy with these strange looking fish structures. Steve and his team from the hatchery were on hand to give us all an overview of the plans and a chance to look around the newly updated facility.
For more than a century, Wild Rose Hatchery has been the State's reliable workhorse, producing up to 50 tons of fish per year. One of only three hatcheries producing cool water and cold water species, this state of the art facility supplies 27% of the States Trout and salmon, 64% of the States Northern Pike and 100% of the states Sturgeon and Muskie. Other capabilities include raising Brown trout, Chinook, Coho and soon, Rainbow Trout. The visitor Center and historic buildings, along with aquariums, video and extensive exhibits help share the Wild Rose story. We were lucky enough to get into the inner sanctum…..the grow ponds.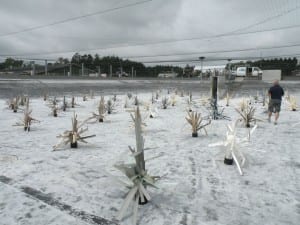 The discovery of the fish disease VHS in Wisconsin, changed many aspects of fish production at Wild Rose and other DNR hatcheries. In addition to strict disinfection procedures and extensive fish testing, visitors can no longer enter fish production areas to avoid tracking in viruses or bacteria. Because of this reason, the Fishiding habitat will be washed between groups of fish to ensure no transfer of germs/bacteria.
We set up some card tables and barely got half way through the bending demonstration and these folks were off. With the help of over a dozen people, 150 units were installed in two different grow ponds as stated above in just a few hours. Originally the plan was to use all 300 units in two 1 acre ponds. As fingerling availability and room at the hatchery came to fruition, the two half acre ponds were available to be used. The additional habitat units will go in separate ponds, to supply additional data on other study parameters and potential use with other species.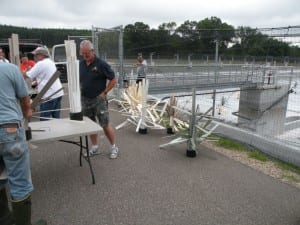 "It's so simple, why didn't I think of that?" was mentioned more than once. "I love that we are keeping this material out of landfills and giving it to the fish." This group was enthusiastic and excited the entire time. Dozens of trips down the long set of stairs into the future home of the State's next generation of "Super Musky." Many exaggerated fishing stories, a few hunting stories, and the common love of the outdoors. I knew we were in good hands when it was apparent that Steve and his staff were as excited as we are, feeling strongly we are breaking new ground in understanding how important a role fish habitat plays, both in captivity and Nature.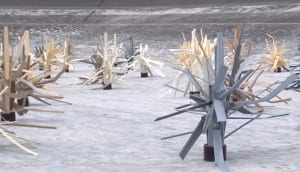 Before we finished cleaning up for lunch and completion, a gentlemen and his Mom were introduced to us all. Carolee Primising and her son Patrick, were asked to come out for a surprise on this eventful day. A plaque was unveiled to reveal a dedication in memory of one of Wisconsin's finest Fisheries Biologists, Mike Primising.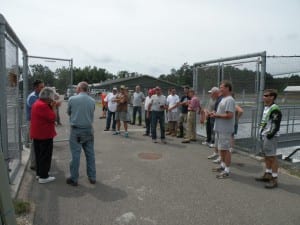 Mike is remembered fondly as a loving husband, dad, friend and MUSKY man, with over 30 years of service to Wisconsin's DNR fisheries. It was an emotional time as Steve spoke warmly of the 9 years he and Mike worked together at the WDNR. We laughed about the good times and knew Mike would be proud to be a part of this momentous event in Musky development.
Confidence is high and results will soon begin to appear. Will the habitat ponds grow larger and/or heavier fish? Will the minnows be able to hide in the habitat and force the Musky to learn to outsmart them? How many of the habitat raised fish will survive after stocking? Will these fish grow larger when stocked due to skills learned at Wild Rose?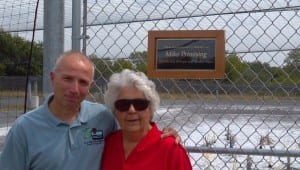 Fishiding.com offers a full line of artificial fish habitat and feeders for fresh and salt water. Dense shallow models, provide cover and substrate for newly hatched fry. Mid and deep water habitat for forage and predator cover in various textures to suit specific species needs. The ability to convert over abundant nutrients back into food via Periphyton, takes place naturally on the massive surface area they create. Self-contained, weighted and ready to unfold and sink, sets these habitat units apart with no additional supplies or tools needed. Underwater PHOTOGRAPHY BY ERIC ENGBRETSON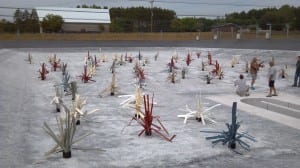 As the trend to improve habitat in all aspects of the Fisheries Industry continues to expand, this inert, long term habitat made from reclaimed artificial materials will continue to lead the way. By expanding our knowledge in Aquaculture, hatchery production and open water habitats, we stand on the brink of understanding how to produce smarter and stronger fish that will survive and prosper in the wild.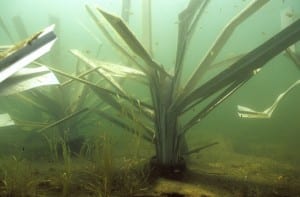 Follow us on Linkdin as well as our habitat blogStructurespot.com to keep up on all the habitat work taking place world wide. Custom units, lake/pond habitat design, species preferences, available upon request.