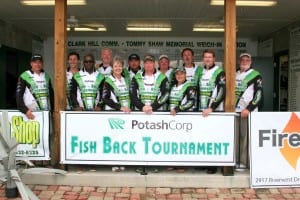 There are countless Bass fishing events that take place across our country each year, allowing participants a chance, to take home substantial prize money and products. This past weekend was no exception on J. Strom Thurmond Reservoir in Appleton,Georgia.
With a first ever of it's kind, The PotashCorp FishBack Open Team Tournament, contestants competed to raise money and awareness in support of the Georgia Ovarian Cancer Alliance (GOCA) and the North Augusta Fishing Team. After the two day event, 100% of the proceeds were donated to these two fine deserving groups with $6000.00 and $4000.00 respectively being awarded.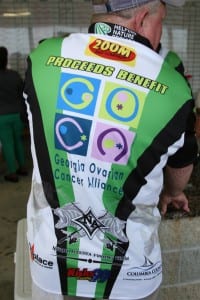 With a guaranteed payout of $12,000 for first place, more than 125 boats competed in this first annual open, two man team event raising money for two great groups. Boats and fisherman from numerous surrounding states, geared up for this unique opportunity to fish this expansive body of water.
Fast boats and seasoned anglers, planned to jockey for a chance at taking home one of the many cash and donated prizes including two 52″ wide screen T.V's donated by Fairway Ford.
Before first light on Saturday, hundreds of decked out fishing rigs decended on Wildwood Park and the Tommy Shaw Memorial weigh in at Clark Hill. Anglers of all levels including a few FLW pro's, then discovered fishing wasn't the only job on hand for the day.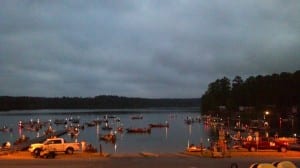 The twist to this groundbreaking Bass tournament concept…….install artificial fish habitat during the event, enhancing the environment and the fishery! Maybe come back on day two and catch a lunker on the habitat unit you installed on Saturday!
That's right, each boat was required to give something back to the fishery by installing an artificial fish habitat structure at either their first or second stop of day one. Over 150 new artificial habitat units were installed during the event.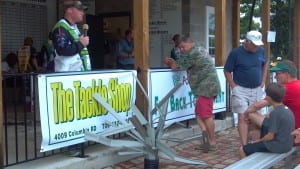 More than one strange look was apparent when the requirement was announced. You want me to put what in my spotless, pristine gel coated water rocket? I barely have enough room for the twenty something rods and hundreds of pounds of tackle we can't fish without. Are we going to fit yet more gear and supplies, ropes, cinder blocks, etc.?
No worries, each boat of two fisherman received a Safehouse model habitat by Fishiding.com to unfold and install. These patented, self contained habitat units are made from reclaimed vinyl siding, cemented into a PVC container. Standing about 45″ tall when shipped, the vinyl limbs bend out in all directions and create a "Safehouse" about 7′ diameter and 3′-6″ tall, weighing approximately 15 pounds.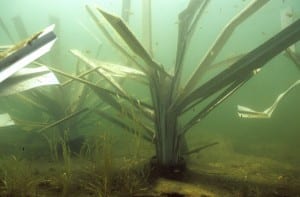 No additional tools or supplies…or mess when putting these habitat units out. Just bend to shape by hand, whatever looks good, then toss over the side. Each artificial fish habitat unit will sink to the bottom and land upright to resemble a bush. The wide limbs create maximum shade, often preferred by bass and forage fish. Nutrients then stick to the vinyl and start the food chain.
The brains behind this first ever conservation awareness tournament came from the event mastermind, Joey Bruyninckx of PotashCorp.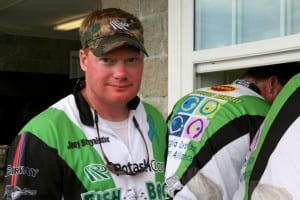 "Giving something back to the fishery only made sense." Cancer, Kids and Conservation, what better causes to support?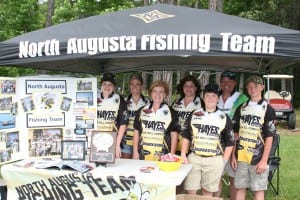 We met Joey and his team through our involvement with the North Augusta fishing Team. PotashCorphas been a loyal supporter of the North Augusta Fishing Team.( NAFT ) Months back, we were contacted by a hard working young lady named Rosie DeAnnutis, a selfless volunteer for theNAFT. She asked if we may like to get involved in supporting the kids on a cold spring tourney at the same location, Wildwood Park back in March.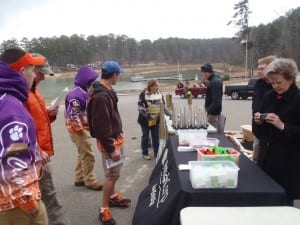 We very much wanted to be involved, but because of the timing and the distance, we called on our trusted partners atSOlitude lake Management at their nearby office's in Charlotte and Raleigh to assist us by speaking to the kids about habitat.SOlitude has nine offices in VA,DE,PA,and MD with top notch professional service and advice for all your lake and pond aquatic needs. Aquatic, Fishery, Wildlife and Forestry Biologists, Environmental and Ecology Scientists, all make up the SOlution to a better planet earth.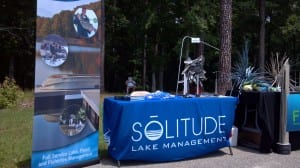 Matt Phillips, their Aquatic Biologist/Environmental Scientist was happy to help and make the three hour drive to participate. The group discussed fish recruitment, stocking and available habitat. These young, fishing machines embraced the information and wanted to be involved in any habitat restoration plans they could assist with. Matt and Joey began to discuss ideas for the upcoming FishBack Tourney that cold, overcast day as the kids enjoyed the time spent together, outdoors.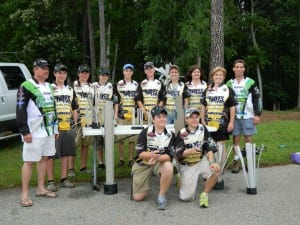 The NAFT is open to kids in junior high through high school, ages 11-18. The coach Sean Hall, has a special gift. Gaining the trust and respect of these kids, he loves the outdoors and teaching them about what is important for their future, and the environment.
Sean brings in DNR officers, Biologists and other related professionals to talk to the kids about boating safety, fish health and species identification to name just a few. "Fishing is only a small part of what these kids take out of being part of the team."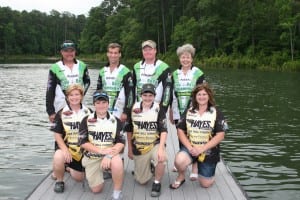 Although Sean is amazing in how he keeps the kids attention, he certainly can't do it alone. Jeannie Parks Wilson and Bobbi Boatwright round out the staff to keep this team growing. Getting involved in more events and spreading the message surrounding the multi-faceted benefits of youth fishing teams is their core goal.
After speaking with local DNR officers, it was determined that the lake needed additional habitat, more than any other feasible efforts like stocking, which was another idea and potential option. The lake levels had been extremely low in the recent past which takes a significant toll on fish spawning and recruitment. Additional habitat that fish can utilize to feed, hunt and hide within creates not only big bass, but forage species as well.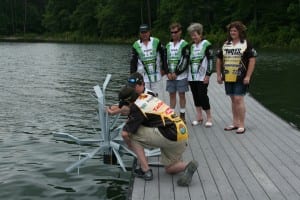 This less known concept in habitat improvement is growing Nationwide and moving to installation of inert, artificial materials that last underwater for decades or longer. In the past, brush piles, Christmas trees and the like have been the norm. Although these materials hold fish and work very well, their life underwater is short lived, due to decomposition, also robbing dissolved oxygen from the water column. Inert materials like boulders, rock and plastics never break down and provide a surface for life to form immediately after submersing.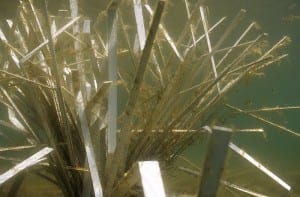 With over 50% of the Nation's waters in an impaired state, biologists and esteemed professionals from all the State and Federal agencies are looking for ways to improve water quality before it gets any worse. Aeration, Floating Treatment Wetlands, living shorelines and artificial habitat, are just a few of the tools we are learning have multiple benefits.
These products when placed in the water, attract and convert excessive nutrients like phosphorus and nitrogen into fish food called periphyton. That fuzz that grows on surfaces underwater…."mothers milk" of the underwater world. All fish graze exclusively on this highest known source of food for their first year of life. Unlike aquatic vegetation, these products never die off and continue to process nutrients all year around in a process called biomimicry. This same technology is currently being used in fields like wastewater treatment, fish farming, aquaculture and hatchery settings worldwide.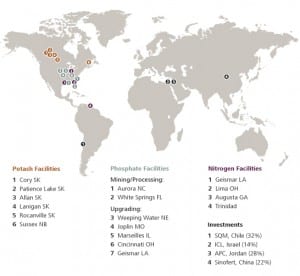 The Potash Corporation, founded in 1989 is one of the world's largest producer of Potash, Phosphate and Nitrogen, responsible for 20% of the global capacity through their Canada operations.PotashCorp has built the world's largest fertilizer enterprise by capacity on world-class potash resources and high-quality phosphate and nitrogen assets. These primary nutrients that crops need, as well as livestock feeds and industrial goods, are an essential part of our everyday lives.
PotashCorp brought in support from all over for this unique twist on bass fishing. The Clark Hill Committee and Columbia County worked tirelessly for weeks with Joey and his team to make this event the huge success that it was.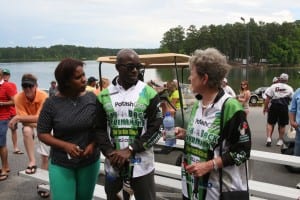 Fairway Ford provided registration and support as well as trucks for display on tournament days, as well as prizes for the raffle.
Dixie Riverside A&A Vending services also contributed not only by donating all the food and drinks, but has been an ongoing supporter of the North Augusta Fishing Team.
Fireplaces and More were on hand cooking fresh pulled pork sandwiches, dogs and the like for the two day event, keeping the masses fed.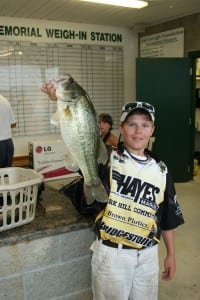 Zoom baits, another NAFT supporter and integral part of this years FishBack tournament, were on hand with samples of some new baits for all involved and a major part of the planning to make this years event possible. Chris Baxter, Zoomsales manager and FLW pro, has a special connection to this event. After his wife was diagnosed with stage 3 ovarian cancer, he wanted to do more to raise awareness for other women and possibly save a life with early detection. Baxter reached out to Doug Barron with theGOCA.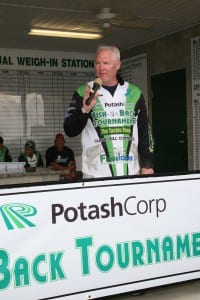 More on Chris and his partnership withGOCA in a story recently written inWired2Fish.com.
Doug and his right hand man Chase Powell, were around all weekend to answer questions and provide literature and support regarding ovarian cancer. Passionate outdoors men, these two guys have a soft and dedicated commitment to help women and their families diagnosed with this unfortunate disease.
From black tie events and prestigious supporters, fishing tournaments with shorts and sandals, the message on how to early detect this type of cancer is one of their main goals. Lots of travel and long days are the norm for these two stewards of ovarian cancer support and education.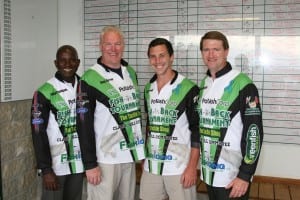 Kicks 99 radio also was on hand with music and games, proudly showing their support for the kids and the Georgia cancer Alliance.
GreenfishTackle and The Tackle Shop had strong support for their products both on and off the water. Owner Jon Hair not only spent countless hours planning with the team but also got out and caught some fine fish as a contestant in the event.
Seatow was there for all on the water support as well as donating prizes to the raffles.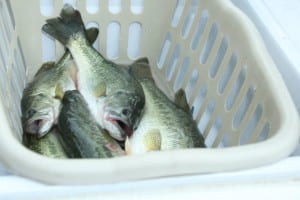 Loads of bass made their way to the weigh in, almost 8.5 pounds and 7.5 pounds won the big bass checks for $1000.00 on Saturday and Sunday respectively. The NAFT kids ran to the lake for release of each boats catch like revolving fish doctors, spending needed time to revive tired fish. Two, five fish limits were added together for the total weight of the event, which a number of the top finishers were over 30+ pounds in aggregate!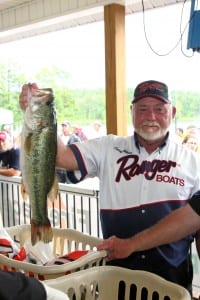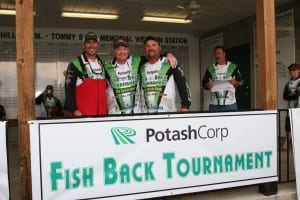 A unique and welcome surprise for a couple traveling from the Chicagoland area. My wife Renee' and I were welcomed into this family of fish loving folks, dedicated to helping others less fortunate and bettering others lives. A touching prayer and our National anthem started the event Saturday morning in the dark. Hundreds of eager contestants stood silent with respect, heads bowed and hats off. Southern hospitality is alive and well in the Augusta area. Take note America, this is how it's done!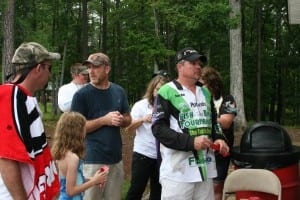 Photos by: Michael E. Johnson Photography 706-832-6762
additional links/stories:ODU,facebook Wired2Fish,potashcorp/facebook