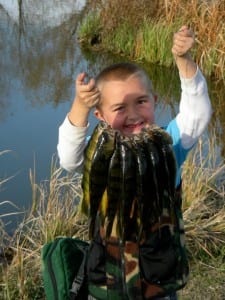 Machado Lake and its surrounding environment are in need of a major recovery effort. The Los Angeles Regional Water Quality Control Board has identified the lake as an impaired water body for DDT, PCBs, pesticides, ammonia, algae, eutrophic conditions, trash, and odor, all of which have negatively affected human as well as aquatic health. This restoration project needs the support of the community to meet the goals of clean water, wildlife improvements, and healthy parks for Los Angeles.
Engineers for the project CDM Smith, specifiy artificial products from Fishiding.com for numerous reasons. The insert, reclaimed PVC limbs will last for decades or more underwater. The PVC material attracts bio-film and peripyton growth, unlike other products. The ability to bend to shape and drop in water, landing upright, is another key feature.
American made from post consumer materials with no manufacturing process, these multi-faceted and species specific habitat units excell in developing protection and food, in the purest and natural form, Peripyton. Leading the Nation and the World in cutting edge design and engineering experience, CDM Smith is the firm policy makers look to for advice and decisions utilizing BMP's for our Nation and beyond.
Non native turtles such as red eared sliders as well as snapping turtles have been found. All dumped by people. Essentially, Lake Machado has turned into a repository for unwanted non native aquatic pets. Which is a shame considering the fact long ago , the lake was a natural body of water supporting indigenous species that no longer reside there.
Not everything about the lake is unpleasant, though. Amazingly, it attracts a wide variety of wading and aquatic bird species: snowy egrets, blue herons, green herons, black crowned night herons, cormorants,coots, ducks, bitterns, Caspian terns and least terns.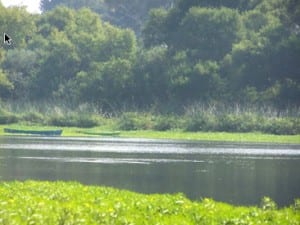 Driving by Harbor City's 231-acre regional park, Machado Lake looks to be a serene and picturesque oasis. Close up, the reality is harsh.
For years the lake, which holds runoff storm water from the area, has collected everything from pesticides to swarms of mosquitoes and piles of trash.
What once was a pristine spot for bird watchers has deteriorated through the decades. The park now draws homeless encampments and has become a haven for lewd activity.
Habitat products both natural and artificial, are designed throughout the lake, creating a perfect environment for aqautic development and health. Hundreds of Fishiding Keeper and Safehouse models will be installed in clusters of five. These models allow engineers to place the habitat structures on ranging degrees of slopes, overseeing detailed specifications regarding spacing, type and texture.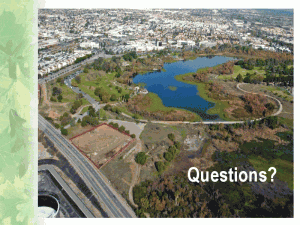 The plan looks like a well designed landscape, only to be submerged for the fish. Large tree trunks, boulders and native plants will also be installed in abundance. Spawning gravels and aggregates will be spread in key areas to promote a yearly, healthy spawn of native fish and aquatic life.
Laddie Flock, owner of Floating Islands West, will be a key player in the installation and maintainence of the Floating Islands, as well as the Fishiding Habitat installation and possibly the other habitat materials.
Floating islands will be created for nesting areas to support native habitat, as well as providing support for additional habitat products to be suspended from the islands, which act as floating treatment wetlands. These magical islands not only provide habitat for fish, birds, bugs etc. , but even more amazing, they remove unwanted, over abundant nutrients and convert them back to food for the fish, naturally without chemicals. Fishing will be fantastic and the water quality will impress anyone and all that enjoy it's surroundings.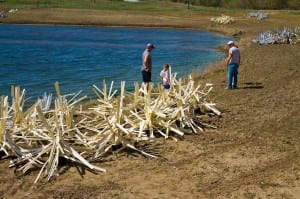 Benches and other park amenities also will be added to the 231-acre Ken Malloy Harbor Regional Park that surrounds the body of water.
"There are four goals: water quality improvements, recreational enhancements, wildlife habitat improvements and flood control," said Michelle Vargas, public information officer for the city of Los Angeles.
"Clearly this will be a major improvement over what we've seen in decades of neglect," said Jess Morton, also of the Audubon Society.
"You won't see the summertime die-off of fish and birds caused by nutrient loads," Morton said.
Algae, pesticides and pollutants such as metals from area industry are likely to be found in the sediment at the bottom of the lake once dredging begins and safely removed.
Once known by locals as "the slough," the area was owned by the Dominguez family in the 1700s and American Indians remained prevalent around the lake. The property later went to the Sepulveda family.
It was annexed in 1906 to the city of Los Angeles and eventually was designated as a regional park.
In the 1990s, the park was named for Ken Malloy, a San Pedro environmentalist who died in 1991 at the age of 78.
Malloy came upon the undeveloped area in the 1930s when his car bumped into some cows grazing on the property and spent years nurturing it.
Convinced it could someday become a grand regional park, Malloy later formed the 62-acre Machado Youth Campground within the park. He was instrumental in planting hundreds of trees in the park as well, working with the California Conservation Corps.
Much more information coming soon as this 2-1/2 year projects begins this spring. For questions about fishing habitat products call 815-693-0894 or e-mail david@fishiding.com