Turn the T.V. off, let's go fishing. That's the rule Rosie DeAnnuntis stands by and school kids and the community are listening.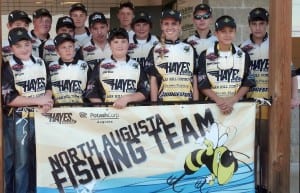 The first Annual North Augusta Border Bass Invitational set for March 2nd 2013 is well underway, and Rosie won't sleep until it's all over. She explains "We are a team of folks from North Augusta Middle and High Schools, who promote the sport of fishing and resource conservation through education."
North Augusta Fishing Team (NAFT) goals are to promote environmental conservation & efforts including Tournament Fishing and getting kids off couches, away from TV and video games, and getting them outside to fish and enjoying the great outdoors! After all, our youth are our future!
When we heard about the tournament and what these kids find important, David Beasley and Matt Phillips from Solitude Lake Management and myself knew we could help. After numerous converations with Rosie, we found out that her group wants to get involved in giving back even more. Habitat projects involving youth are sprouting up all over the Nation and kids are learning the benefits that come with the hard work.
Corporate America is also involved in habitat restoration projects from Coast to Coast. Power companies, manufacturing and chemical firms are all taking proactive stands to improve our environment, learning from our mistakes of the past.
Solitude is no stranger to community involvement. Owner, Kevin Tucker runs a tight ship, providing lake,water quality, fisheries and pond management services throughout the south and Eastern seaboard. All of the employees at SOlitude get involved in giving back to the community and the environment on an annual basis. Check out their you tube page here about helping the SOlution.
Matt Phillips one of Solitude's Fisheries Biologists, will be on hand to talk to the kids and answer questions related to fishing, habitat and pursueing and education in the field. Matt is just one of the many excited Biologists Solitude has available to discuss habitat projects with fishing groups, State and Federal agencies as well as private water owners.
Along with product displays, handouts and give away prizes, Fishiding will be on hand as well to discuss potential future habitat projects with the kids and major Corporate sponsors on hand. "I spoke to Potash yesterday afternoon & let me tell you they are extremely excited about working with Fishiding & SOLitude!"
Support these kids and what they stand for. Preserving our waters and giving back for future generations. Being responsible for their own actions, utilizing the endless teenage energy to better themselves and the environment. Being aware of our environment, continued education and getting involved in your community sounds like a formula for success!