Here's a little bit of background on how this idea to create artificial fish habitat has developed and where we see it going in the future. Installing and creating additional fish habitat has been going on for many years.
We simply feel we have come up with a better way to help fish and the environment together. Go green and help restore lost fish habitat.
Growing up in Northern Illinois, my dad started me fishing at a very young age. At age 7 Jacques' Cousteau was the man saving the oceans and sea life, there my passion lies, these 40+ years later. Fishing for all kinds of freshwater species, then expanding into saltwater, has provided me with many years of learning and meeting qualified people in the industry.
Fast forward 20 years, I'm now president and owner of a new General/Carpenter contracting business. Married with four children, a whole new set of responsibilities appeared. Surely it would give me more time to fish right? Be your own boss they all say. Housing in our area exploded, followed by steady commercial growth. We enjoyed what was some of the best 15+ years to be a builder . It was here in the trades, I worked with the materials that would come to be fishiding.
Our local sportsmans club needed help handling the fish stocking and habitat programs. Our 830 acre Wonder Lake was in need of a great deal of habitat improvements.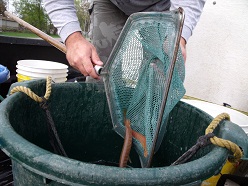 Scrap and unwanted vinyl material has always been tossed in dumpsters in our area. That's when we realized this stuff would work great underwater and it's keeping it out of the landfills. Algae will grow. Fish will come. Lasts forever. Win-win right?
Here is where the idea was born, testing of different sizes, ,weights, containers and variations began. Along with the input from the professionals, we developed a line of artificial fish structures that not only worked, fish started using them within a few days.
Next it was off to the professionals (and patent office), to see if it would be accepted into the industry as a safe product, and as widely used as we saw the potential. The wonderful news is they have, with products now in 44 states and counting.
What started with the simplest idea and one crib model has turned the industry's focus in the direction of reclaimed artificial fish habitat products, lasting for many years to come. Our focus has always been to improve habitat for the fish. The fact that it makes easier places to catch fish, is the fantastic added bonus.
What we have learned is our nation is losing habitat for fish at an alarming rate. Poor farming practices, manufacturing and development are just a few causes. Today, 39% of freshwater fish are at risk of extinction. Fifty percent of the nation's waterways are considered impaired. We want to help the fish. That will stay our goal.
Trial and error, lots of siding, and more fishiding fish structure units in Wonder Lake. We continue to test and develop new textures, sizes and shapes of fish attractors for all types of needs. We film under water to see how the structure is being used by various sizes and types of fish. We continue to see every fish in the body of water utilize the cover at some time.
The biologists asked for something more dense, with fine strands to protect the smallest fry and larvae.
Something easy to transport, fitting in the boat without the need of tools, weights or chains.
Products that don't add to energy and pollution concerns.
These concerns have been addressed and resolved with utmost care and consideration. This is only the beginning.
The market is vast, from saltwater to aquaculture, freshwater to aquariums and beyond. Fishiding.com will continue to reshape fish habitat, one bend at a time, offering the most cost effective solution to artificial fish habitat. Helping save our waterways and fisheries, while being conscious of leaving no footprint from manufacturing. This is what we believe. This is for the fish.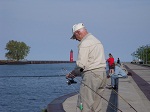 Get involved, do your part in reducing our nation's dependency on fossil fuels. Help America strengthen by buying and supporting products made here in the states. Reclaimed fishiding artificial fish habitat is made in America with only American produced materials.
Support your local sportsman/women, for all God's creatures in our woods and waters they work to protect, being stewards of the land,water and creatures within.
Thanks for your help in improving habitat for future generations of Americans,
David W. Ewald